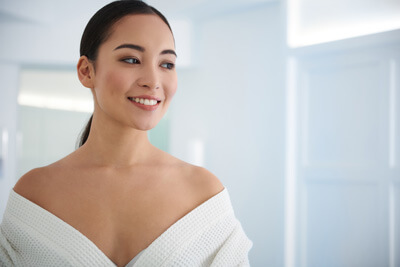 When looking for décolletage treatments, you may not know where to begin. Your décolletage is the delicate area of skin on your neck and chest and is often overlooked during skincare and sun protection routines. Your focus on protecting and treating the skin on your face, may have left you with a decolletage that is effected by sun damage leading to solar elastosis, pigment and texture changes.
Over time, fine lines and thinning skin give your once youthful neckline an aged and weathered appearance. Thankfully there are several treatment options to revitalize your décolletage. From Vivace RF Microneedling to dermal fillers – aesthetic nurses at New Life Aesthetics can help you find the best décolletage treatment option for you.
To schedule your initial consultation for your décolletage treatment, call (919) 521-8282 or schedule online today!
Décolletage Treatments
---
Vivace RF Microneedling is a treatment combining microneedling and radiofrequency energy addressing many concerns when it comes to improving the appearance of your décolletage. By using this unique treatment approach which involves a specialized treatment serum and cooling peptide mask, you're now able to:
Reduce wrinkles and fine lines
Tighten Skin
Improve skin tone and texture
Vivace RF Microneedling treatments bring you immediate results and have minimal downtime by stimulating collagen production in the delicate skin on your neck and upper chest. Our aesthetic nurse will apply a numbing cream prior to your procedure, making it virtually painless.
---
Another great option when searching for décolletage treatments is the Forever Young BroadBand Light (BBL) treatment. BBL treatments help increase your body's ability to replace aged, tired skin with healthy new skin cells. Whether it's the effects of aging, or sun-damage, BBL treatments can help restore the youthful appearance of your décolletage by reducing fine lines, sun spots, and pigment changes.
Forever Young BroadBand Light (BBL) uses light energy to heat your skin and in turn stimulate the natural process of your body to create healthier skin cells. This improves your skin tone and even smooths out skin color changes from sun damage.
BBL treatments can help restore and repair your décolletage by addressing:
Fine lines
Age spots
Freckles
Uneven skin tone
Blotchiness
Sun damage
BBL décolletage treatment generally takes between 15-45 minutes to complete and is a gentle, noninvasive process. There is also virtually no downtime so you can return to your busy schedule after taking some time to focus on yourself.
---
When it comes to improving the delicate and feminine areas of your neck and upper chest, using a treatment that optimizes not one, but two different laser technologies can make a substantial difference in results. The Halo Hybrid Fractional Laser has a unique approach by using both ablative and non-ablative lasers to stimulate and restore your décolletage.
When we use the Halo laser on the skin of your neck and chest, it is constantly measuring the amount of heat and energy it's using and adjusting as needed. This makes for a more consistent, safe, and effective treatment compared to other lasers and chemical peels.
The Halo laser treatment stimulates collagen and elastin production by targeting microscopic pathways and then creating tiny thermal openings in your skin. Halo laser treatments can help improve your décolletage in the following ways:
Improving firmness around your neck and upper chest
Reducing wrinkles
Reducing hyperpigmentation caused by sun damage
---
Botox is a great option for addressing wrinkles and fine lines caused by aging and gravity. Botox is a neurotoxin that smooths fine lines on your upper chest, softening damage caused by time and the sun.
Dermal fillers are another great décolletage treatment. By using their trained eyes, our aeshtetic nurses create natural and full appearing skin in all the right places. Time and gravity often creates a sunken or sagging appearance of the skin around your neck and chest. By using dermal fillers, that skin now becomes plump and youthful looking again.
---
PCA peels have been around for over 20 years and have been scientifically formulated and developed to bring you glowing, younger looking skin. The 'peel' is referring to the exfoliation and flaking that occurs after your treatment. PCA peels work by promoting exfoliation of old, damaged skin and in turn promotes healthy skin cell regeneration.
After your décolletage PCA peel, the skin on your neck and upper chest may peel and flake with the end result being even tone and a glowing neckline. PCA peels are great for treating sun exposed skin, improving the signs of aging, and as a general treatment to maintain skin health over time.
---
Platelet Rich Fibrin
Platelet Rich Fibrin (PRF) enhances the effects of other décolletage treatment options by using your own cells to improve firmness, smooth out fine lines, and even skin tone. While the treatments listed above stimulate collagen and growth factor production by using microneedling, fillers, or light energy, PRF directly injects these growth factors into the treatment area making PRF an excellent addition to décolletage treatments.
As we age our bodies become less resilient and sun damage creates discolored and uneven skin tone to the delicate tissues on your neck and chest. PRF uses the power of your own cells to create new, healthy tissue to replace weathered and damaged tissues. PRF treatments safely and efficiently work to counter sun damage to your décolletage and enhance the effects of other décolletage treatments.
---
Request Your Décolletage Treatment Consultation
If you're looking to improve the skin of your décolletage by treating solar elastosis, uneven skin tone or simply want to maintain healthy skin that is glowing and smooth – request your décolletage treatment consultation today.
New Life Aesthetics has several available treatments available to restore healthy and youthful looking skin. Get the décolletage you deserve by requesting your consultation today!
Call (919) 521-8282 or request a free consultation online.
---