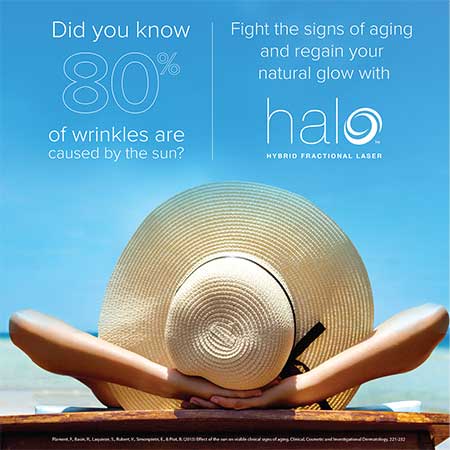 Your appearance is more than just how you look - it's a vital part of your unique personality, charisma, and self-esteem. That's why our New Life Aesthetics team is pleased to offer you the very first hybrid laser therapy: the powerful yet gentle Halo Hybrid Fractional Laser.
This minimally invasive technology applies two different wavelengths to maximize your treatment's effectiveness without the risks, costs, and long recovery times of cosmetic surgery and previous generations of laser skin treatments.
Your wrinkles, pigment, loose skin, and acne scarring don't have to define you. Take your first step toward rediscovering the naturally beautiful and youthfully radiant you.
Call our team at New Life Aesthetics at ☎ (919) 521-8282, or contact us online today!.
---
What is the Halo Hybrid Laser?
The Halo Hybrid Fractional Laser by Sciton™ is one of today's most innovative skincare technologies available. What places the Halo Laser above lesser skincare treatments? Its ingenious use of both ablative and non-ablative technology.
First, the ablative laser targets microscopic pathways in your skin without affecting surrounding areas. Then, the non-ablative laser creates tiny thermal openings in your skin, stimulating new collagen and elastin production. These building blocks of fresh and radiant skin help to tighten wrinkles and shrink pores, encouraging the growth of supple skin over sun-damaged, acne-scarred, or prematurely aged cells.
Unlike chemical peels, the Halo Laser is also supported by digital technology for uniformity and consistency. The integrated thermometer measures the heat and thermal impact on your skin every moment of the treatment and automatically adjusts to keep skin safe throughout. Additionally, cooling is integrated into the Halo handpiece to ensure safe, comfortable and effective impact on your skin.
With unique powerful engineering, the transformative Halo Laser offers all of the benefits of more invasive procedures via several brief treatments and brief recovery times. The result is smooth, volumized, naturally radiant skin - what our happy clients love to call "the Halo Glow."
---
What skin conditions does the Halo Hybrid correct?
The Halo Hybrid Laser can successfully treat:
loss of firmness
wrinkles
acne scarring
rosacea
hyperpigmentation (sun spots and age spots)
enlarged pores
broken capillaries
spider veins
unwanted freckles
---
Your Halo Hybrid Treatment
First, you'll enjoy an in-depth consultation with one of our aesthetic nurses to discuss your skin type, your current skin condition, other medical conditions, any medications you're taking, your expectations, and concerns. You won't be rushed - they want to make sure you're comfortable and confident about your treatment options.
With this information, we will create a customized treatment plan based on your needs and expectations. This first step is crucial for getting the results you desire and minimizing the chances of any negative side effects.
On the day of your treatment, you'll arrive about an hour prior to your treatment. We will apply a very strong numbing cream that will penetrate your skin and make the treatment very tolerable. Your eyes will be protected with safety shields or glasses.
Assisted by the computer software Visia 3D Skin Analysis to identify hard-to-see skin blemishes, the aesthetic nurse will then pass a handpiece over your treatment area numerous times to ensure that the light energy is directed evenly. You may briefly feel a warming sensation or a slight snap (like a small rubber band) on your skin as the light passes over it; this experience is typically very mild and most patients tolerate it easily.
Your treatment time may take as little as 30 minutes or up to an hour and a half, depending on the area being treated and the severity of your skin condition. There is virtually no downtime after this gentle and non-surgical facial treatment. We will be happy to discuss these details and answer any questions before you receive treatment.
---
Halo Hybrid Laser aftercare
Immediately after your treatment, it's best to avoid sun exposure unless it's absolutely necessary - especially for the first 24 hours. It's also best to avoid strenuous activity for the rest of the day. In most cases though, you can apply cosmetics, return to work, and resume most of your activities immediately.
About 24 hours after your treatment, your skin will begin peeling. This is a normal part of the skin regeneration process. When your skin starts peeling, you can resume your normal activities, though it's very important to wear sunscreen. You will see improvements in your skin tone and texture after your skin is done peeling, which typically takes about one week.
Following aftercare instructions is absolutely crucial for best results.
---
Halo Hybrid Fractional Laser Benefits
This innovative skincare treatment offers a wealth of benefits that outdated, less sophisticated methods simply can't live up to. They include:
non-invasive and non-surgical: you can get back to your regular activities right away, with no anesthesia to recover from, no bandages or wounds to worry about, and no long periods of time recovering in a hospital room
nearly universal: Halo Hybrid can be used on all skin types to treat virtually any cosmetic skin condition - without sacrificing convenience or effectiveness
multi-functional: Halo can be combined with most other skin care treatments, including Botox and dermal fillers
versatile: you can receive treatment virtually anywhere on your body, including your face, chest, neck, hands, and arms
wide-ranging coverage: Halo can resurface about 30 percent of your skin, while older treatments average about five percent - a massive upgrade over past single-laser treatments
dual-action: while older treatments used one simple laser or light, Halo Hybrid blends the power of two distinctly different light sources to form one highly effective yet minimally invasive therapy
fast and easy: unlike cosmetic surgery or other invasive techniques, Halo Hybrid is quick, relatively pain-free, and requires no special preparation or downtime
convenient: your Halo Hybrid treatment is performed right in our luxurious and comfortable Raleigh suite by one of our aesthetic nurses
---
Halo Hybrid Fractional Laser Treatment Results
---
Who's a good candidate for Halo Hybrid Fractional Laser?
Generally, all patients with cosmetic skin concerns will gain satisfying results from the Halo Hybrid. However, some medical conditions or life stages may make potential patients less than excellent candidates.
These include:
pregnancy/nursing
HIV/AIDS
certain immune system disorders
a pacemaker or other electronically implanted device
extreme or severe skin disorders
certain medications
certain ages
During your consultation, be sure to discuss any medical conditions or medications you are taking that might sensitize you to light, affect wound healing, or interrupt blood clotting. Be sure to tell our aesthetic nurse if you've taken Accutane during the past year, as this can affect your Halo Hybrid candidacy.
---
What results can I expect?
You will see initial results between 5-7 days after your treatment, which will then continue improving. Over the next 2-3 months, you'll enjoy noticeably reduced discoloration, smoothing of fine lines and wrinkles, reduced pore size, skin reflectivity, and a healthy, radiant glow. Many patients report their treatments giving them long-lasting results - sometimes, for years. Taking good care of your skin, especially using sunscreen, will help it retain its tightness and youthful appearance.
Most patients need only one treatment, but depending on the condition of your skin and how your body responds, you may require several sessions. Future touch-up treatments can help keep your skin looking soft, silky, and beautifully contoured.
As with any medical procedure, treatment results will vary from patient to patient depending on age, genetics, general health, condition severity, follow-up care, and environmental factors.
---
Are there any side effects?
Halo Hybrid skin therapy may cause these mild side effects:
a hot sensation: a normal reaction that should resolve within 1-2 hours
tenderness, swelling, and/or redness: this should resolve within a few hours
darkening of your dark spots: this will soon vanish as the old skin flakes off
Follow post care instructions exactly until your skin is completely healed (which typically takes one week). Your face may need more time to heal than other treatment areas.
Read our Halo Laser Post Treatment Instructions
---
How much does Halo Hybrid Fractional Laser cost?
Your skin treatment cost will vary depending on your desired treatment area, your current medical situation, and the number of sessions required. During your consultation, we will create a customized treatment plan and review, which will include the cost.
---
Reserve your appointment
Your skin is your closest friend. As your body's most important organ and a reflection of your inner beauty, it deserves the best care available. Halo Hybrid Laser is the world's first and only dual-action light therapy that empowers your self-esteem and quality of life.
Take the first step toward awakening a brand-new you today by calling our team of elite professionals in Raleigh, NC at ☎ (919) 521-8282 or contact us online.
---