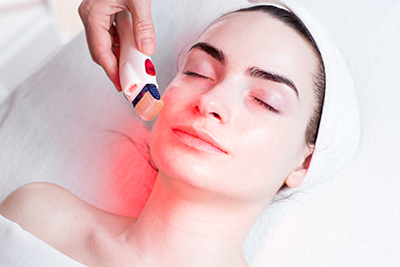 Is the person in the mirror not looking like the "real you" these days? It's to be expected. Sooner or later, we begin to lose collagen and elasticity. Sooner or later, tight, radiant skin is replaced by wrinkled, loosened skin. Add a few acne scars, a sun spot or two, and your face may begin to look much older and more weathered than it is.
Your initial reaction may be to go out and splurge on the finest wrinkle remover you can find. But did you know that only 4-8% of that pricey face serum actually penetrates your skin?
That's when you start desperately researching how to remove face wrinkles fast. Your search will inevitably lead you to discover the most effective non-surgical skin tightening Microneedling RF device on the market: Vivace by Cartessa Aesthetics.
When you work with the microneedling specialist at New Life Aesthetics, you can expect dramatic results with less downtime and more self-confidence. For a customized Vivace skin revival call ☎ (919) 521-8282, or contact us online.
How does Vivace work?
Vivace is a revolutionary therapy that combines the accuracy of microneedling with the skin-tightening efficacy of radio frequency (RF), while also tapping the benefits of red and blue light therapy.
And it's all delivered by 36 AI-inserted gold-tipped insulated microneedles, which allow deeper penetration and more even heat distribution when forming the microscopic microchannels in your skin that will stimulate collagen production. This allows our aesthetic nurses to customize your therapy by adjusting the depth and duration of the heat pulses, as well as your doses of:
growth factors: substances like vitamins, minerals, or hormones that stimulate cell growth
amino acids: organic protein builders like carboxyl (-COOH) and an amino group (- NH2)
hyaluronic acid: a clear lubricant found in your skin, joints and other tissues that helps you retain collagen, increase moisture, and promote elasticity
What Can Vivace Do For Me?
Vivace delivers highly customized protocols to successfully:
resolve fine lines, crow's feet & mouth wrinkles
tighten skin
minimize pores
clear up acne scars
resolve rosacea
even out skin texture & tone
resolve neck skin laxity & crepiness
Even if your skin isn't yet dramatically loose or wrinkled – this technology can provide preventive treatment to maintain your skin's tone, texture, and firmness.
---
Vivace RF Microneedling Treatment Results
---
The Vivace RF Microneedling Treatment
Before your procedure, numbing cream will be applied to your treatment area for about 30 minutes. Once you're relaxed and comfortable, our aesthetic nurse will begin to deliver your virtually pain-free 45 minute treatment.
Depending on the condition and thickness of your skin you may experience some pinpoint bleeding, swelling or pressure, or a tingling sensation from the anesthetic cream.
After your Vivace treatment is complete, you will be delighted by the application of a cool recovery masque that will accelerate the healing and erase redness or heat in the skin.
The microchannels that enable your skin to absorb all the regenerative serums and nutrients will remain open for about 4 – 6 hours, after which you'll be able to go out and celebrate. You may feel a sunburn sensation for up to 24 hours. Ice packs should alleviate any discomfort.
For maximum results, we usually recommend booking 3 treatments 2-4 weeks apart. As with any medical procedure, treatment results will vary from patient to patient depending on age, genetics, general health, condition severity, follow-up care, and environmental factors.
Read our Vivace Pre and Post Treatment Instructions
Reserve Your Appointment Today!
Let the face in the mirror smile back at you with the youthful radiance you remember. Let us regenerate your natural collagen – and your intoxicating self-confidence! Call New Life Aesthetics in Raleigh, NC at ☎ (919) 521-8282 or contact us online today!
---