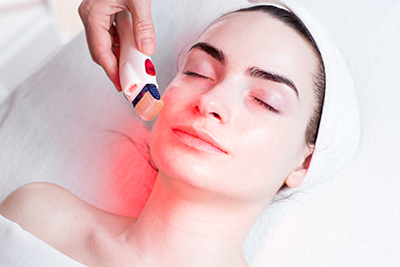 Vivace Ultra™ reimagines what RF microneedling can be. One of Elle Magazine's Future of Beauty winners, Vivace Ultra combines two unique technologies into one state-of-the-art personalized treatment.
Offering unmatched precision - utilizing industry-first ultrasound visualization – Vivace Ultra™ is the most recognized radiofrequency microneedling option. Functional and intuitive, with versatility and treatment plans tailored precisely for you, Vivace Ultra is an upgrade to an already proven, powerful treatment system and is FDA approved.
The results are immediate, and with multiple treatments, improve over time. With results you can see, touch and feel, you will experience your best self at any age.
Don't let time slip away from you before you see what Vivace Ultra can do for you! Call ☎ (919) 521-8282 or contact us online to schedule your consultation!
What is Vivace Ultra?
Vivace Ultra is an innovative upgrade of the legacy Vivace Microneedle RF treatment and device. A minimally invasive skin rejuvenation treatment, it uses a combination of microneedling and radiofrequency energy to ramp up collagen and elastin production not only in the superficial layers of the skin but also in deeper dermal layers, with increased production continuing for up to six months.
Radiofrequency energy is used to heat the tissue and stimulate collagen production in the deep layers of the skin. Similarly, microneedling also involves the induction of collagen production. Hundreds of micro-punctures in the skin trigger a cascade of responses signaling your body to respond to these multiple "injuries" by producing collagen. Because collagen and elastin are essential for maintaining your skin's tightness and youthful appearance, Vivace Ultra produces dramatic, visible results that can last for several years.
Benefits of Vivace Ultra?
Vivace Ultra™ uses linear array ultrasound technology to visually map your skin - allowing users to develop a personalized treatment for each layer of the skin, delivering effective clinical results that will amaze you. This next-level system builds upon an already best-in-class device. It has been developed alongside and backed by clinical/user feedback from top plastic surgeons, dermatologists and medical aesthetic practitioners.
Vivace Ultra alleviates facial wrinkles and fine lines, tightens and tones face and neck, and can be used on other areas of the body. The Vivace Ultra treatment can also minimize pores, even out skin tone and texture, and firm skin, making it tighter and smoother. Acne scarring, "crepe" skin and stretch marks also respond well.
There are so many benefits you won't find with any other treatment system, including:
No surgery required
Combines two unique modalities into one treatment
Includes industry-first ultrasound imaging, mapping, and an exclusive uniform RF microneedling delivery system
Ability to treat face or body
Minimal downtime
Colorblind versatility - works with light to dark skin types
Customizable treatment, and more
You will see results immediately – and the results will only improve over time and can last for years!
How Does Vivace Ultra Work?
During Vivace Ultra treatments, radiofrequency energy is simultaneously used to heat the tissue and further stimulate collagen and elastin production in deep layers of the skin. It tightens the skin, reducing the appearance of wrinkles, jowls and loose skin.
Vivace Ultra differs from ablative laser treatment that can remove the surface of the skin, leaving weeks of downtime. Vivace Ultra delivers energy through precise microchannels and reaches even deeper, heating the deepest layers of pigment and stimulating collagen even deeper for dramatic, long-lasting results.
What to Expect Prior and During Your Appointment for Your Vivace Ultra Treatment
Before your treatment session, we will spend time reviewing your medical conditions and any medications you're taking, as well as answering any particular questions you may have. Your treatment will last anywhere from half an hour to 45 minutes. Topical anesthesia is always applied to the treatment areas, and additional comfort measures are optional and available upon request. If you have a history of recent or currently active skin infection or injury, your treatment will be scheduled once the skin barrier has healed.
Aftercare for Your Vivace Ultra Treatment
You can return to your normal daily activities immediately after your treatment. It is also best to avoid applying makeup or skincare products, or rubbing or massaging the area treated, until the next day. Proper sun protection is recommended. Refer to pre- and post-care instructions.
Seeing the Results
You may begin to see progressive, visible results immediately after each treatment session. The treatment regimen for Vivace Ultra is typically 3-4 treatments over the course of 3-4 months, with maintenance every 6 months. Individual results and treatment sessions may vary. Generally, results improve over time and can last for years.
---
Reserve Your Appointment Today!
If you want your face and body to appear more youthful, natural and healthy, then Vivace Ultra could be the right treatment option for you. Love the skin you're in. Choose from New Life Aesthetics' array of non-surgical options like Vivace Ultra. Call ☎ (919) 521-8282 or contact us online to schedule your consultation!
---