Hand Rejuvenation Specialist located in Raleigh, NC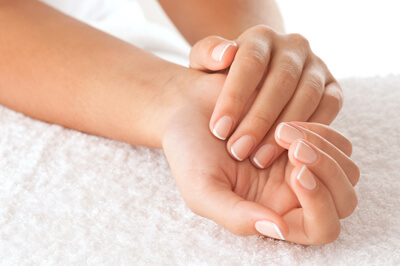 While most women focus on anti-aging treatments for their faces – many now seek the benefits of hand rejuvenation. Other than your face, your hands are the next best 'tell' when aging. Fine lines, age spots, lax and thin skin are all factors that can affect your overall self-esteem when it comes to your hands.
You may have tried creams and topical treatments in the past. You've probably been disappointed with any results you may have seen (if you've seen any at all). That's because the best treatments for hand rejuvenation are more than skin deep.
Laser treatments allow for safe and effective hand rejuvenation that go beneath the top surface of your skin to address signs of aging and bring youthful beauty back to your hands. Dermal fillers also create instant fullness to restore dull, lax skin.
You may be wondering what treatment option is best for hand rejuvenation. Luckily, New Life Aesthetics offers multiple options to ensure you have the best and personalized treatment.
To schedule your initial hand rejuvenation consultation, please call (919) 521-8282 or contact us online today!
Hand Rejuvenation Treatments
---
Halo Laser Treatment
The Halo Pro Hybrid Fractional Laser by Sciton™ provides innovative hand rejuvenation results by using both ablative and non-ablative technology. Simply put, the ablative laser targets and treats signs of aging on your skin. The non-ablative laser creates tiny thermal openings on your hand to stimulate collagen production – further promoting smooth and youthful skin.
The Halo laser is perfect for your hands if you're looking to address:
Loss of firmness
Wrinkles
Hyperpigmentation (sun spots and age spots)
Broken capillaries
Freckles
---
Forever Young BBL Therapy
Another therapy we can use to provide that youthful look to your hands again is the Forever Young Broadband Light (BBL). The energy provided by the Forever Young BBL encourages and allows your body to generate new collagen and lose the pigment that causes hands to appear aged. When this happens, old and tired skin cells are replaced, leaving you with creamier, more youthful skin.
The Forever Young BBL treatment does this with visible and infrared light energy, gently heating your skin to stimulate collagen and elastin production. Forever Young BBL may be right for you if you're hoping to improve the skin on your hands by treating the following:
Fine wrinkles
Age spots (liver spots)
Freckles
Uneven skin tone
Sun-damaged skin
Angiomas (red moles)
---
SkinTyte
If you suffer from wrinkled, loose, or lax skin on your hands – the SkinTyte hand rejuvenation treatment could be perfect for you. SkinTyte uses a full spectrum of infrared light to target both the superficial and deeper layers of the skin on your hands.
In order to achieve personalized and safe results, there are several features to the SkinTyte hand rejuvenation treatment we will set specifically for you. These include finesse adapters and smart filters to treat any body shape and adjust the wavelength. The uniform beam allows for even distribution of the light during treatment, and the precise cooling effect of the SkinTyte handpiece creates a gentle and comfortable experience.
The SkinTyte treatment provides you with a youthful and toned appearance to your well-deserving hands. SkinTyte treatments are also an excellent option for someone wishing to prevent the signs of aging before they appear.
---
Dermal Fillers
In addition to laser treatments, there are several dermal filler options to help with hand rejuvenation. When collagen and elastin decrease in your hands as you age, the skin becomes thin and sunken appearing. Dermal fillers instantly create a full and natural appearance to your hands.
During the procedure, we will use the safest technique to add soft tissue filler to plump and fill out your hands' underlying tissues. This creates a smooth, youthful appearance, often concealing the prominent veins and tendons that give hands an aged appearance. Immediately after your treatment you will appreciate the results of your filler, with full results generally seen within two weeks. We use several types of fillers to provide you the best treatment for your needs.
Platelet Rich Plasma (PRF) injections are often used with dermal fillers to enhance their collagen stimulating effects. PRF uses your own body's cells to create plump, refreshed skin, specifically on the hands. The delicate tissues on the back of your hands benefit from PRF treatments used with dermal fillers as a way to blend and amplify the effect of collagen stimulation and improve signs of age and sun damage.
---
Request Your Hand Rejuvenation Consultation
Are you ready to turn back the hands of time? We are here to help you determine what the best hand rejuvenation options are for you.
If you're looking for hand rejuvenation in the Raleigh, NC area – call (919) 521-8282 or contact us online today! We look forward to bringing that youthful fullness back in your hands.