Sagging jowls. Droopy neck. Puffy eyelids. Jiggling arms. Lumpy, dimpled postpartum stomach. It's inevitable - sooner or later our skin begins to lose its natural collagen and elasticity.
Skin laxity can creep up at various ages and on various body parts, but it's especially common in the face, neck, abdomen and arms. It used to be, we had to cover up with creams, kooky exercises and creative wardrobe fixes. All while trying to figure out how to tighten sagging skin on face areas that are too difficult to hide. Then would come that fateful decision to get droopy eyelid surgery or risk ending up with liposuction scars.
Today, science has changed all that. Today, there's SkinTyte™ by Sciton.
The SkinTyte™ laser device is powered by Sciton's BroadBand Light (BBL)™ - the world's most powerful IPL (Intense Pulsed Light) device on the market. Based on the principle of selective thermolysis, this innovative device utilizes pulsed light technology to heat deep skin layers while cooling surface areas.
SkinTyte™ can predictably, effectively, and comfortably treat just about any area where you'd like firmer, more elastic and more radiantly youthful skin. This state of the art treatment is safe and optimized for all skin types - and it feels like a hot stone massage with no severe pain or down time.
So, skip the jowls exercise and invest in this BBL revival of the naturally youthful you: firm, chiseled and SkinTyte™. For a custom skin rejuvenation plan call New Life Aesthetics at (919) 521-8282, or contact us online.
---
How does SkinTyte work?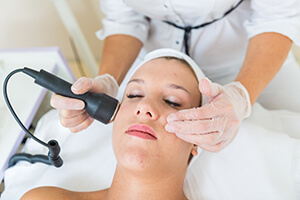 Unlike other laser therapies that provide a single or double wavelength, the SkinTyte™ therapy device delivers a full spectrum of advanced infrared light. This enables dual action penetration of both your superficial and your deeper skin layers.
When SkinTyte™ delivers pulses of infrared light it causes your collagen to contract and coagulate, stimulating your skin to heal itself by creating fresh collagen. It also absorbs both oxygenated and deoxygenated hemoglobin.
These innovative features make SkinTyte™ the ideal anti-aging technology:
uniform beam: parabolic optics are engineered to deliver energy to your treatment area uniformly and consistently
finesse adapters™: these magnetically attachable adapters allow treatment of hard-to-reach areas and various body shapes
smart filters™: allow for quick and easy adjustment of wavelengths to address multiple skin conditions with a single hand piece
precision cooling: the BBL's thermoelectrically cooled sapphire crystal provides maximum comfort - it can cool your skin in 1°C increments from 0 - 30°C
One of our aesthetic nurses will customize your filters before deeply heating your skin's collagen. Simultaneously she will be protecting your treated epidermis with sapphire contact cooling. This continually monitored process will stimulate your body's natural healing process very gradually - effectively and precisely tightening and smoothing your skin.
---
What Can SkinTyte Do For Me?
This powerful treatment can reduce or delay signs of aging and laxity almost anywhere on your body. This innovative technology can successfully correct:
fine face wrinkles
crow's feet
glabellar lines (forehead wrinkles between eyebrows)
sagging jowls
droopy neck
jiggling upper arms
loose, dimpled stomach skin
wrinkled, lax hand skin
You can benefit from SkinTyte even if your skin isn't yet dramatically loose - it can serve as a preventive treatment to maintain your skin's youthful radiance.
---
SkinTyte Treatment Results
---
What happens during my SkinTyte treatment?
At your initial consultation we will discuss your medical history and treatment goals before scheduling your procedure. Please wear loose, comfortable clothing and remove all makeup and lotion before entering our skincare suite. Males should shave immediately before coming in.
After making sure you're in a comfortable position, our skin specialists will protect your eyes with safety glasses. You may feel a brief warming sensation as the light seeps into your epidermis.
With the SkinTyte device our aesthetic nurse will deliver dermal heating and epidermal cooling at the same time using rapid, gentle energy pulses to heat soft tissue and generate collagen production. SkinTyte's large spot size, enables us to treat large areas, while the magnetic Finesse Adapters allow us to reach smaller nooks and crannies. The procedure may take about 15-45 minutes, depending on the size of the area being treated.
There's no need for anesthetic or downtime, so you can resume your regular activities immediately following treatment. In most cases, you're able to apply makeup the next day.
Any mild redness or stinging usually resolves by end of day. Complete healing typically takes between 1-2 weeks, and body skin might take longer to heal than facial skin.
You must avoid direct heat and sunlight following your treatment. We may prescribe some supportive medical-grade skincare to enhance and maintain your results. Most patients need a series of these gentle treatments, though you will notice benefits after each one.
As with any medical procedure, treatment results will vary from patient to patient depending on age, genetics, general health, condition severity, follow-up care, and environmental factors. Consult with our aesthetic nurse before embarking on your skin smoothing journey.
Read our SkinTyte Post Treatment Instructions
---
Am I a candidate for SkinTyte?
Most patients with loose or saggy skin can benefit from SkinTyte. However, these medical conditions or life stages may preclude you from being a candidate:
pregnancy/nursing
HIV/AIDS
open skin sores, including herpes sores
certain immune system disorders
a pacemaker or other electronically implanted device
extreme or severe skin disorders
certain medications
certain ages
During your consultation, be sure to discuss any medical conditions or medications you are taking that might sensitize you to light, affect wound healing, or interrupt blood clotting. Be sure to tell us if you've taken Accutane during the past year.
SkinTyte™ costs vary depending on treatment location, number of sessions required, and other considerations. Our aesthetic nurse will consult with you about your needs and goals to determine your specific costs. SkinTyte™ is not covered by medical insurance.
---
Reserve Your Appointment Today!
Your skin is a reflection of your personal energy - why look old if you're young in spirit? And why waste any more time wondering how to mask saggy jowls or how to get rid of deep forehead wrinkles?
Get your outer age to match your inner age! Call New Life Aesthetics in Raleigh, NC at (919) 521-8282 or contact us onilne today!
---