Kybella Injections
Whether it's the double chin that you were born with or an aging neck and jawline, we may have the answer in the FDA approved Kybella Injections treatment.
Nurse Practitioner, Meredith Harris, NP, has received advanced training in the treatment of the double chin with Kybella® and her artful eye and skilled hand can provide a welcome turning back of the age-clock.

What is Kybella?
Deoxycholic acid is a naturally occurring substance in your body that assists in fat metabolism.
Kybella® is an injectable form of deoxycholic acid that is placed directly into the fat under the chin to minimize and tighten the area.
The result is a beautiful, tighter, slimmer profile!
How many Kybella treatmets do I need?
If Kybella® is right for you, you will likely require 2-4 treatments, each about 8 weeks apart. Kybella is a permanent solution to your troubled profile!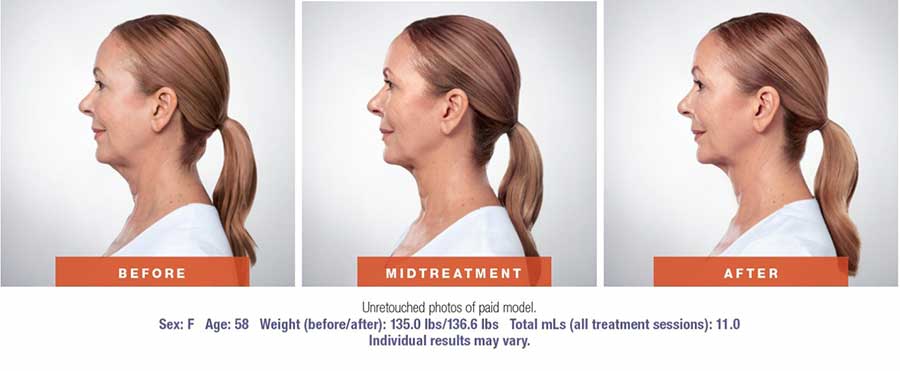 What to Expect After Kybella?
How long is the Kybella treatment?
Topical anesthetic and ice make for minimal discomfort. You will spend about an hour in our office but treatment only takes about 10 minutes!
How long does swelling last after Kybella?
Expect to have swelling following each treatment which will begin to resolve by about the second week after your injections. With each subsequent treatment, less swelling is noted.
How to prepare for a Kybella treatment?
To avoid bleeding/bruising at the injection sites, we recommend abstaining from aspirin, anti-inflammatories, fish oil, St. John's Wart, Vitamin E and green tea for at least a week prior to treatment. A follow up appointment will be made for approximately 8 weeks later.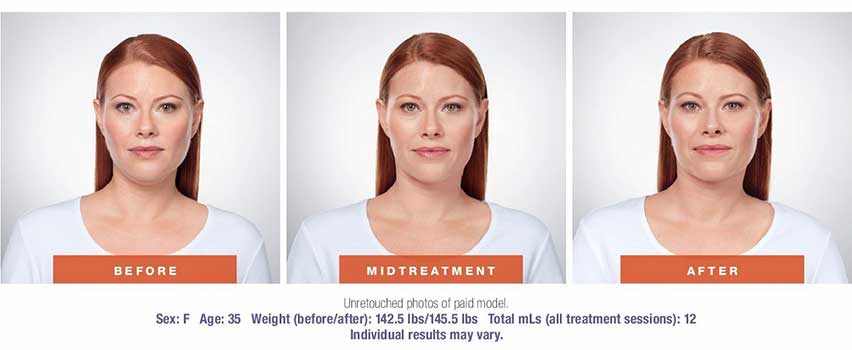 Request Your Kybella Treatment Today!
We invite you to come and experience our uniquely refreshing approach to anti-aging.
Please call our clinic at (919) 521-8282 or fill out the form below to schedule a complimentary consultation with Meredith.