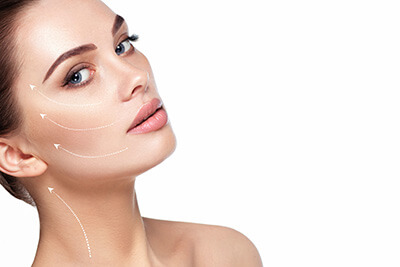 Although oxygen keeps you alive, you can get too much if it – excessive active oxygen dries and ages your skin prematurely. This may have you wondering which skincare brand really manufactures the best moisturizer for dehydrated skin.
The problem is, even if you can afford a top-of-the-line hydration serum, only 4- 8 % of it will actually penetrate your skin. And if you don't know how and how much to use, you may have to clean its residue out of your pores – which will soon have you seeking the best face wash for sensitive skin.
The cleanser you choose, however, may dry and dull your skin tone, and you'll soon find yourself researching the best moisturizer for sensitive skin. And so, the cycle continues, as your parched, scaly skin sends out SOS signals – again – while you're still left without an effective anti-aging skin care routine.
What if you could satisfy all of your skin's needs in one high tech 30 minute session?
Now you can – thanks to SkinWave Therapy at New Life Aesthetics. Our anti-aging team has partnered with Cartessa Aesthetics and Eunsung Global, a medical aesthetics technology innovator that provides this clinically validated solution for all skin types in over 70 countries.
No need to spend every free moment skimming articles on the top 10 anti-wrinkle creams in the world, or the best facial cleanser for acne.
National Cartessa Aesthetics trainer Meredith Harris delivers customized protocols designed to meet the needs of your age, skin type, and unique dermal imperfections. Why wait? Call to schedule a skin consult at ☎ (919) 521-8282, or contact us online.
How does SkinWave work?
SkinWave is the ultimate anti-aging multi-tasker.
While it nourishes your skin with naturally-occurring compounds and gently extracts impurities from your pores, it's also delivering a custom dose of antioxidants. Its unique "hydrogen therapy" feature feeds your skin hydrogen-infused water which dissolves the active oxygen that causes all that dryness.
SkinWave's "electroporation" setting temporarily opens your pores so they can absorb your prescribed dose of each compound, while contouring massage rollers release tense facial muscles, enabling lymphatic drainage to expel both external and internal impurities.
This revolutionary technology will:
AWAKEN your skin with alpha hydroxy acid to tone and exfoliate
CALM your skin with beta hydroxy acid and salicylic acid to control breakouts
QUENCH your skin with hyaluronic acid which lubricants and helps you retain collagen
CLEANSE your skin with hydrogen water which acts as an antioxidant
Skinwave is one of the most versatile anti-aging solutions we offer at NewLife Aesthetics – Meredith can deliver it to complement any laser skin treatment.
The SkinWave Treatment
After she has analyzed your skin and determined your custom doses, Meredith will cleanse your face thoroughly with a mild cleanser.
Then, she will pour the Awaken solution into the aqua tip dispenser and position it at the appropriate angle on your cheek. You may feel a bit of suction, as she rotates the tip across your face for 3 minutes. Next, she will repeat this process with the Calm solution.
Your electroporation with be performed with long, deliberate strokes across your entire face for another 3 minutes. After infusing your entire face with hydrogen water for 5 minutes, she will deliver the Quench solution, then complete your session with a lymphatic drainage roller.
Your skin may be a bit red, flaky, and mildly sensitive for a while. But you'll immediately notice a hydrated glow – which you must protect by wearing sunscreen, refraining from aggressive skincare for at least 48 hours, and following Meredith's aftercare instructions.
Reserve your appointment
Regardless of your age, skin type, or imperfections, Meredith is trained to pamper your skin until is glows. You won't need to research anymore creams or serums once you've tried the New Life Aesthetics SkinWave solution. Call to schedule a consultation at ☎ (919) 521-8282 or contact us here.