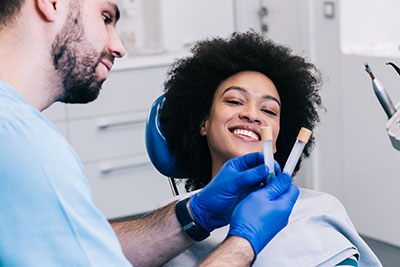 The blood that's pumping through your veins carries the potential to smooth, tone, and rejuvenate your complexion. How? In the hands of a medical aesthetics expert skilled at extracting your own Platelet Rich Plasma (PRP) to regenerate your damaged skin cells.
Meredith Harris, NP is a master of the PRP facial rejuvenation – the most natural way to improve the appearance and texture of your skin while reducing fine lines, under eye hollows, nasolabial folds, blemishes, and acne scars.
This natural regenerative therapy requires isolating the platelets from a sample of your own blood, then delivering your PRP to damaged tissue, where it triggers fresh collagen production.
For years, Meredith has been delivering this treatment to get rid of wrinkles, fade scars, and revive skin tone, enabling hundreds of patients to look as young as they feel.
You can be next.
To schedule your consultation with a highly acclaimed facial aesthetics professional, plase call New Life Aesthetics at ☎ (919) 521-8282 or contact us online.
How does PRP regenerate my skin?
If you've been researching how to restore collagen in the face hollows and crevices that creep up with age but want to avoid risky surgery, this is your optimal solution.
When the New Life Aesthetics team performs your PRP facial treatments, they will be delivering nutrient-rich cells – growth factors – which stimulate the release of your skin's own stem cells, encouraging the creation of new blood vessels (angiogenesis). Growth factors also stimulate collagen production. Epidermal growth factors promote proliferation and differentiation of skin cells. Together, all of these actions help regenerate the structural integrity of your facial tissue. That means skin that's soft, smooth, firm, and supple.
Your PRP Facelift
As always, Meredith will first analyze your medical history to determine whether you're a good candidate for PRP Therapy.
For one week before your procedure:
avoid NSAIDS like ibuprofen, Motrin, Aleve, Naproxen, aspirin (Tylenol is OK for pain relief up to and including the day of procedure – do not exceed 4000mg in 24 hours)
avoid gingko biloba, garlic, vitamin E, vitamin A, flax oil, curcumin and other anti-­inflammatories
avoid corticosteroids
avoid alcohol and tobacco
hydrate very well the day before and the day of the procedure for ease of blood draw
Meredith will draw a sample of your blood and spin it in a centrifuge to separate the growth factor-rich platelets from the red and white blood cells. Your PRP serum can be delivered topically, injected or both.
Meredith applies PRP topically after creating a light skin injury via Halo, Collagen PIN or Vivace RF Microneedling. This injury spurs fibroblastic activity to stimulate collagen production and expedite healing time.
Meredith performs PRP injections, which can be delivered along with soft tissue fillers, into the face, neck, under-eye hollows, and chest to improve color, texture, and blood supply. Injections can be delivered alone, or in tandem with topical therapy.
PRP Therapy offers benefits that surgical options don't because it's:
autologous (sourced from your own body)
non-surgical (less risky and less invasive)
comfortable
quick (takes about one hour or less)
convenient (requires little recovery time)
scar-less
Your after care
Healing times vary with treatment types: Vivace healing is immediate, Collagen PIN requires about 3 days, and Halo treatments may take up to 7 days to heal.
Because you may experience some bruising and irritation, it will take about 2-3 days before you'll be able to return to social activities.
Your optimal results will shine through within 5-6 weeks if you:
eat a healthy diet and hydrate very well – at least 64 ounces of clean fresh water daily
avoid NSAIDS (ibuprofen, aspirin, Motrin, Aleve, Naproxen) for 5 days after procedure (Tylenol is OK – do not exceed 4000mg in a 24 hour period)
avoid gingko biloba, garlic, vitamin E, vitamin A, flax oil, curcumin and other anti-­inflammatories for 5 days after the procedure
avoid corticosteroids for 2 weeks after the procedure
avoid alcohol and tobacco for 5 days after the procedure
avoid sun exposure for at least one month after treatment
wear a SPF 30 sunblock with zinc oxide
attend your 4-­week follow up appointment for further instructions
Reserve your appointment
No more gobbing on makeup and covering your facial contours with your hair. No more insecure close up moments. No more fretting in front of the mirror. Revive and regenerate your skin naturally – with PRP Therapy. Call ☎ (919) 521-8282 or contact us online for the best face wrinkle treatment available.