Stubborn belly or underarm fat got you down? Say goodbye to fat areas and say hello to wearing a two-piece or tank top with confidence again with CoolSculpting Elite.
CoolSculpting Elite is the latest in noninvasive fat reduction and Meredith at New Life Aesthetics in Raleigh, NC is one of the very first providers in the United States to offer the treatment.

When it comes to nonsurgical and noninvasive fat reduction, CoolSculpting Elite treatments now remove more fat in less time with their dual applicators and advanced fat freezing technology.
With CoolSculpting Elite treatments, problem fat areas are reduced in as little as one treatment, restoring confidence and curves exactly where you want them. Call our Raleigh, NC location at (919) 521-8282 to request your CoolSculpting Elite consultation.
---

What is CoolSculpting Elite?
CoolSculpting Elite is the latest advancement in fat-freezing technology, also known as cryolipolysis.
When people say they want to lose weight, they usually mean they want to lose fat, and this is exactly what CoolSculpting Elite treatments do. Fat cells treated by Coolsculpting Elite treatments freeze and eventually die, taking self-doubt and insecurity with them. Once fat cells die and are naturally excreted from your body, you cannot re-grow them, so results are permanent. The best candidates for Coolsculpting Elite are men or women with stable weight, moderate to lean body mass, with areas of the body where fat is resistant to diet.
Fat cells are reduced by up to 25% in treated areas, for good.
What sets CoolSculpting Elite treatments apart from traditional CoolSculpting technology is its added efficiency of time in treatment and improved handpiece design. The new handpiece design improves outcomes by providing a better fit for reducing fat in diet-resistant places. The Elite has dual applicators which allow for treatment in two areas at once. This brings you better results without needing more time.
---
What areas can CoolSculpting Elite treatments treat?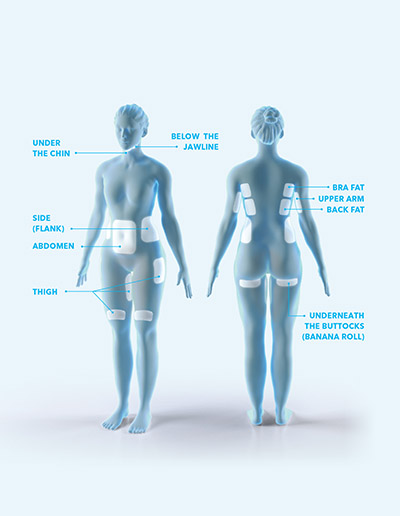 If you're still struggling with extra fat after having children or want to get rid of stubborn love handles, CoolSculpting Elite treatments can help you feel comfortable in your skin again.
Although men and women distribute fat differently, CoolSculpting Elite treatments work effectively for both genders. CoolSculpting Elite is FDA-cleared to eliminate fat in nine areas:
Under the chin
Jawline
Bra fat
Back fat
Upper arms
Thighs
Abdomen
Flank (love handles)
Underneath buttocks
CoolSculpting Elite has a range of applicators for precision treatments, whether we're treating a stubborn double chin or reducing love handles.
---
Your CoolSculpting Treatment in our Raleigh, NC Clinic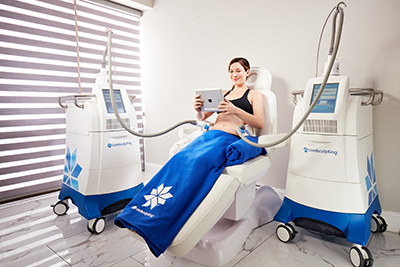 CoolSculpting Elite treatments are nonsurgical and noninvasive. A cooling barrier is applied and secured to the problem area much like a heating pad. During your treatment, you will feel a sensation of cold as well as pulling and tugging as the applicator secures itself to the treatment area.
Due to the cold sensation, the area eventually becomes numb for the remainder of the treatment. You're able to read, catch up on work, and just relax during your treatment. Patients will often need more than one treatment to reach their desired fat reduction goals and Meredith will discuss a treatment plan with you during your visit.
---
Request Your Consultation Today!
If you're someone who is frustrated with stubborn fat areas despite diet and exercise and is looking for nonsurgical fat reduction options, CoolSculpting Elite treatments may be right for you.
To learn more about CoolSculpting Elite treatments, please call our Raleigh clinic at (919) 521-8282 or click here to schedule a consultation with Meredith.
Read our Coolsculpting Elite Pre and Post Treatment Instructions