Stubborn belly or underarm fat got you down? Say goodbye to fat areas and say hello to wearing a two-piece or tank top with confidence again with CoolSculpting Elite.
CoolSculpting Elite is the latest in noninvasive fat reduction and the medical team at New Life Aesthetics in Raleigh, NC is one of the very first providers in the United States to offer the treatment.

When it comes to nonsurgical and noninvasive fat reduction, CoolSculpting Elite treatments now remove more fat in less time with their dual applicators and advanced fat freezing technology.
With CoolSculpting Elite treatments, problem fat areas are reduced in as little as one treatment, restoring confidence and curves exactly where you want them.
Call our clinic at (919) 521-8282 to request a consultation for the best CoolSculpting Elite treatments in the Raleigh area.
---

What is CoolSculpting Elite?
CoolSculpting Elite is the latest advancement in fat-freezing technology, also known as cryolipolysis.
When people say they want to lose weight, they usually mean they want to lose fat, and this is exactly what CoolSculpting Elite treatments do.
The best candidates for Coolsculpting Elite are men or women with stable weight, moderate to lean body mass, with areas of the body where fat is resistant to diet.
Fat cells are reduced by up to 25% in treated areas, for good.
What sets CoolSculpting Elite treatments apart from traditional CoolSculpting technology is its added efficiency of time in treatment and improved handpiece design. The new handpiece design improves outcomes by providing a better fit for reducing fat in diet-resistant places. The Elite has dual applicators which allow for treatment in two areas at once. This brings you better results in record time.
---
What areas can CoolSculpting Elite treat?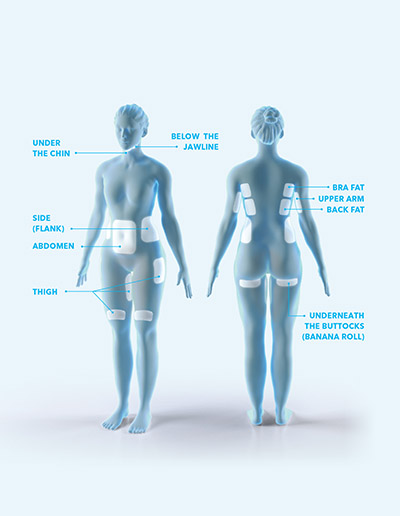 If you're still struggling with extra fat after having children or want to get rid of stubborn love handles, CoolSculpting Elite treatments are a great option for fast fat reduction.
Although men and women distribute fat differently, CoolSculpting Elite treatments work effectively for both genders. CoolSculpting Elite is FDA-cleared to eliminate fat in nine areas:
Under the chin
Jawline
Bra fat
Back fat
Upper arms
Inner and Outer Thighs
Abdomen
Flank (love handles)
Underneath buttocks (banana roll)
CoolSculpting Elite has a range of applicators for precision treatments, and at New Life Aesthetics treatments are customized to meet your unique needs.
---
CoolSculpting Elite Treatment Results
---
Frequently Asked Questions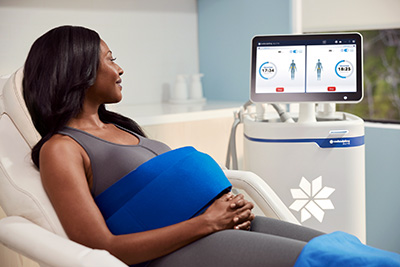 Is CoolSculpting Elite right for me?
CoolSculpting Elite treatments are nonsurgical and noninvasive making them a great option for many people who want to get rid of specific areas of fat.
If you carry extra fat around your jawline, belly, back, or thighs and are looking for one of the best and fastest treatments in Raleigh, CoolSculpting Elite treatments can help.
CoolSculpting Elite treatments work best on patients who are getting close to their goal weight, typically within 20-30 pounds of where they want to be. If you've been exercising and eating a healthy diet but still struggle with specific areas of stubborn fat – CoolSculpting Elite can help tackle them and help you reach your goals.
If CoolSculpting Elite sounds like the right treatment for you and you live in the Raleigh area, making an appointment with one of our aesthetic nurses will help determine if CoolSculpting Elite makes sense for you.
What happens during a CoolSculpting Elite treatment?
CoolSculpting Elite uses a method called cryolipolysis which means fat cells in the treated areas are frozen. This is done by applying a cooling barrier which is secured to the problem area like a heating pad.
During your treatment, you will feel a sensation of cold as well as pulling as the applicator draws the fat between the cooling contact plates.
Fat cells treated by Coolsculpting Elite treatments freeze and eventually die. Once the fat cells die, your body naturally removes them so they are permanently gone from the treated area.
Your treatment time will range from 30 minutes to several hours depending on the size of the area being treated as well as how many areas you treat at one time.
During your treatment you will be sitting in a comfy chair and are free to catch up on emails, order groceries for pick up later that day, watch a favorite show on our big-screen TV, or even take a short nap.
Does CoolSculpting Elite hurt and is there any downtime?
Most patients tolerate CoolSculpting Elite treatments very well. There can be some discomfort when your treatment initially starts, feelings of cold and tingling are often noted. But cold is a natural numbing method so after a few minutes, any discomfort tends to fully subside.
As far as downtime, the great thing about CoolSculpting Elite is there is no downtime or recovery. You may notice some swelling in the treated area and our team may recommend applying compression for a few days afterward depending on the areas treated.
How much does CoolSculpting Elite cost in Raleigh?
Pricing for CoolSculpting Elite in Raleigh varies based on the area being treated as well as how many sessions are recommended.
Most patients need a series of treatments to see full results.
---
Schedule Your Appointment Today!
If you're someone who is frustrated with stubborn fat areas despite diet and exercise and is looking for noninvasive fat reduction options in Raleigh, CoolSculpting Elite treatments may be right for you.
To learn more about the best CoolSculpting Elite treatments, please call our Raleigh clinic at (919) 521-8282 or click here to schedule a consultation with one our aesthetic nurses today.
Read our Coolsculpting Elite Pre and Post Treatment Instructions
---